National Association for the Blind (NAB-K) has been built with the aim to make the visually impaired lead an independent, dignified life. NAB-K was founded in 1977 as a private, not-for-profit organization to provide services and support system to the visually impaired and empower them through the various programmes to lead a life with confidence, self-reliance and skills necessary to earn a livelihood.
What's New
Know about what's happening at NAB-K
Engage
Contribute to success of NAB-K
Events
Register for our upcoming events
Donate
Help make a difference by donating
Refer
Refer a candidate to our upcoming programs
NAB-K is proud to be the recipient of the Employment and Placement Award for the Disabled from the Central Government and three Special Teachers Awards from the State Government. NAB-K was the recipient of the Best Institution award 2018-2019 conferred by the State Government of Karnataka.
NAB-K is the only institution which runs this unique program to provide Orientation & Mobility Training, Community Based Rehab training, Digital Literacy Training and Light Engineering Training to train the visually impaired.
NAB-K is a pioneer on mobility training and rehabilitation. Since 1977, more than 10,000 visually impaired individuals have benefited from the programmes and training held at NAB-K.
Community Based Rehabilitation
Helping visually impaired persons in the rural segment to lead a self-sustained & independent life by 
Identifying through door-to-door surveys and extending support 

Providing remote/online mobility training 

Help setup Kirana shops, Animal Husbandry training and other local entrepreneurial opportunities.

Helping self-employed visually impaired to setup Self Help Group.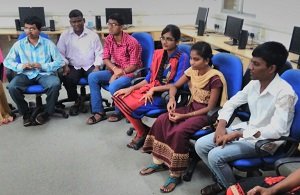 NAB-K is India's premier center offering mobility training for the visually impaired. Their 6-week program covers walking with a cane, moving about in a room, using public transportation, and mapping routes. NAB-K has trained more than 10,000 Visually Impaired Individuals
Provides Rehabilitation, Orientation & mobility, Life Skills, Vocational Training & Placement / Self Employment.
Blue collar & White-Collar jobs
Provides work opportunities with potential employers, identifying specific job roles for the visually impaired and jointly create specifically designed training programs to impart skills required for the job role.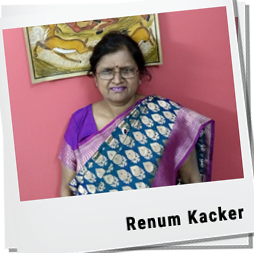 Renum Kacker
Renum Kacker was born partially blind to Radhey Krishna Tandon and Sheela Rani Tandon in 1963. At the age of 52, Renum lost her vision and had many challenges, such as being unable to go to another room without help, recognize currency notes, or cook as before. She found out about NAB and joined the computer and mobility training course. She learned to walk independently, use the computer, and perform daily living tasks. Today, she is independent in her mobility and orientation skills and has basic computer skills. she has been working as a Telephone Operator and today working for Bank of Baroda at Bereily, Uttar Pradesh.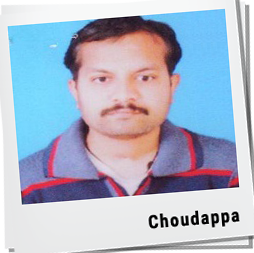 Choudappa Rangappa
Choudappa Rangappa Kundargi has had an unusually tough journey through his young life. He was diagnosed with brain thrombosis at the age of 31. He lost his sight and was in a coma for 3 months. After he recovered, he came to NAB-KB for training in mobility and computer skills. He learned to walk independently and use the computer. Today, he can perform basic computer functions on par with any sighted person.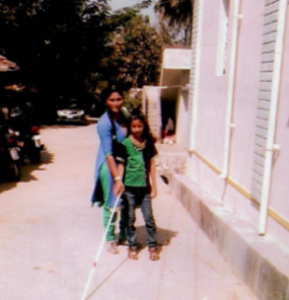 Samreen
Twelve year old Samreen was born completely blind and lives with her parents, one sister and one brother. NAB gave Samreen training in mobility and orientation skills and helped her utilize facilities like bus pass, railway concession & handicapped allowance.Along with the daily living skills and mobility training given by our project facilitator, she has also been counselled in independent skills.She is now all set to start school from the next academic year.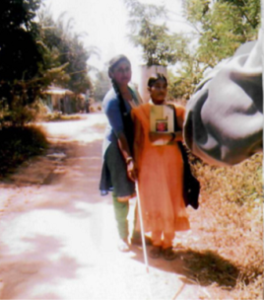 Komala
Komala is 24 years and has been visually impaired since birth. She has a sister who is blind and a brother. She was identified by NAB and given training in mobility and orientation skills. She is now working as a Village Rehabilitation Worker (VRW). She is now able to take care of her family well and is happy.
Before coming to NAB my mobility was very low. But after getting trained here, I am able to go anywhere I want, independently. I also enjoyed the computer training I took here. I am now looking for a job.
I first heard about NAB from my friends in 2003 and since then I have been wanting to join the NAB. After taking the training here, I worked in the BPO sector and now I have come back to take the mobility training and also refresh myself in computer training. I find that my confidence is building now. My plan now is to join an IT company
After having undergone training at the NAB, I feel very confident about managing on my own. My family is also very happy. I am now looking for a job in an MNC. I have learnt Bharathnatyam, have given performances and have done my graduation in journalism. I want to tell people that we don't want any sympathy, only the right kind of support. Sometimes people, while trying to help us, only confuse us more. That should not be the case.
Before joining NAB I was very scared to even speak to anyone. But now after coming to NAB, I feel bold and am happy that I'm learning new things like learning to use the computer. My plan now is to start my own business in petroleum products.
After the training here, I feel I don't have to depend on others for everything. Earlier I used to work in a call centre and now I want to get back to a job and pursue my passion, which is cricket. After joining here I came to know that there is something called Cricket for the Blind. So I want to get trained in that.
Our students' families share feedback with us and tell us that the staff here are the most friendly, compared to all other institutions. We don't make anyone wait. And although we are strict as instructors, we encourage the students to talk freely with us. As a staff member, I have many wonderful memories here. NAB has given me everything.
Before becoming a trainer at NAB I used to have sympathy for the visually challenged. But now after having had experience as a mobility trainer here, I know that what they need is empathy and not sympathy. Here at NAB we have very good relationship with the students, who also discuss their problems with us. Our aim here is to make the visually challenged become independent and come up in life and I am proud that we help them achieve that.